At Bayes Impact, we're cognizant of the fact that social impact can't be done overnight. That's why we embrace a different kind of model – instead of working with part-time volunteers, we hire full-time data scientists and software engineers to work on a small number of high impact projects. The fact is, it takes time to solve these kinds of problems, and even more time to go the extra mile required to implement the solution through to the end. At the same time, there's nothing quite like a hackathon to encourage rapid ideation, mass collaboration, and get the community together. That's why we decided to organize one for ourselves.
With our cohosts Jerry Yang – cofounder of Yahoo! – and Joe Lonsdale – cofounder of Palantir, we organized the first annual Bayes Hack last month, and we couldn't be happier with the result. We brought together an elite group of 150 data scientists, developers, and designers for a nonstop 24-hour social impact hackathon in San Francisco. Participants flew in from as far away as New York City to hack on 20 predefined data-based challenges from our nonprofit and civic partners, which include the White House, the Bill and Melinda Gates Foundation, and Thorn. Our hackers then got to present their projects to a venerated set of judges, including Kevin Hartz – cofounder of Eventbrite – and Mike Abbott – current partner at KPCB and former VP of Engineering at Twitter.
We were thrilled to see such a positive and passionate response to Bayes Hack from the data for good community. Over the course of just 3 weeks, we received more than 300 applications for the invite-only event. On hackathon day, we were humbled to find ourselves in a room with chief data scientists, chief technology officers, entrepreneurs, and venture capitalists who were willing to give up their weekend to hack for social impact.
Our nonprofit and civic partners came forward with plenty of problems for our participants to work on. For each team at Bayes Hack, we were delighted to offer mentoring sessions from our nonprofit and civic partners. Teams were able to engage on a one-on-one basis with experts such as Xavier Hughes, the current Chief Innovation Officer at the Department of Labor, and receive real-time feedback on their data science projects.
In total, 39 projects were produced at Bayes Hack. Thorn, the nonprofit started by Ashton Kutcher and Demi Moore that is committed to fighting child sex trafficking, asked participants for assistance in mapping price-driven demand for escorts in major cities across the United States. The winning project at Bayes Hack, led by Segment.io cofounder Peter Reinhardt, completed this challenge and took it one step further – the team used the data to build an algorithm to pinpoint previously undetected criminal prostitution rings. For their prize-winning entry, they will be getting breakfast with Alexis Ohanian – cofounder of Reddit, grabbing lunch with Jerry Yang, and having dinner with Joe Lonsdale.
Our first runner up project, led by KPCB partner Anjney Midha, used data from the Food and Drug Administration to build an app utilizing neural networks to predict the possibility of adverse side effects from combinations of drug medications.
Our second runner up project, staffed by four members of Facebook's core data science team, used crime data from the San Francisco District Attorney's office to build an interactive decision support system for the San Francisco Police Department that can help police officers optimize patrol car placement to better respond to emergencies.
Each team has developed a solid proof of concept to solve an urgent problem. We're committed to following up with each team to maximize their social impact. In fact, Google has already generously offered to commit $100,000 of Cloud Compute credit to Team Thorn to help continue their work in criminal prostitution ring detection. For other teams, we'll be working to open-source their projects to explore their solutions to real-world problems, as well as set up high-level meetings between teams and relevant nonprofit and civic partners. We have a real chance to start a dialogue with nonprofit giants and government agencies, and give them feedback that they will listen to. We're hoping that the outcomes from Bayes Hack will help educate the social sector on the possibilities of data, and encourage more organizations to embrace data-driven approaches to scale their impact on the world.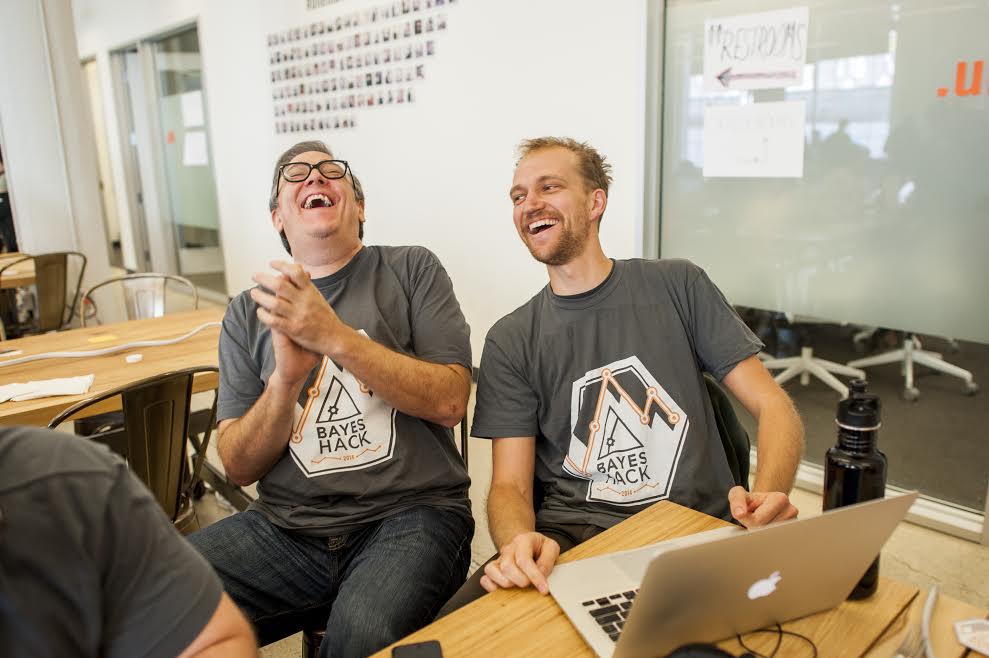 Suffice it to say, it's been moving for us to see the sheer number of talented people who care about the data for good movement. We hope we've inspired you as much as you've inspired us. After all, this is just the start. Stay tuned for the next few weeks — we'll be publishing additional blog posts detailing the amazing projects that came out of the hackathon.In the meantime, you can explore the projects on our ChallengePost website. Many of them have demos, code and write-ups about their solutions, so be sure to check them out!
Huge thanks must go out to our sponsors Groupon, Microsoft, OpenDNS, California Healthcare Foundation, Merus Capital, AME Cloud Ventures, Formation 8, Pejman Mar Ventures, and Morado Ventures. Without your support, Bayes Hack would not have been possible.